Blount is Vidalia's System Teacher of the Year!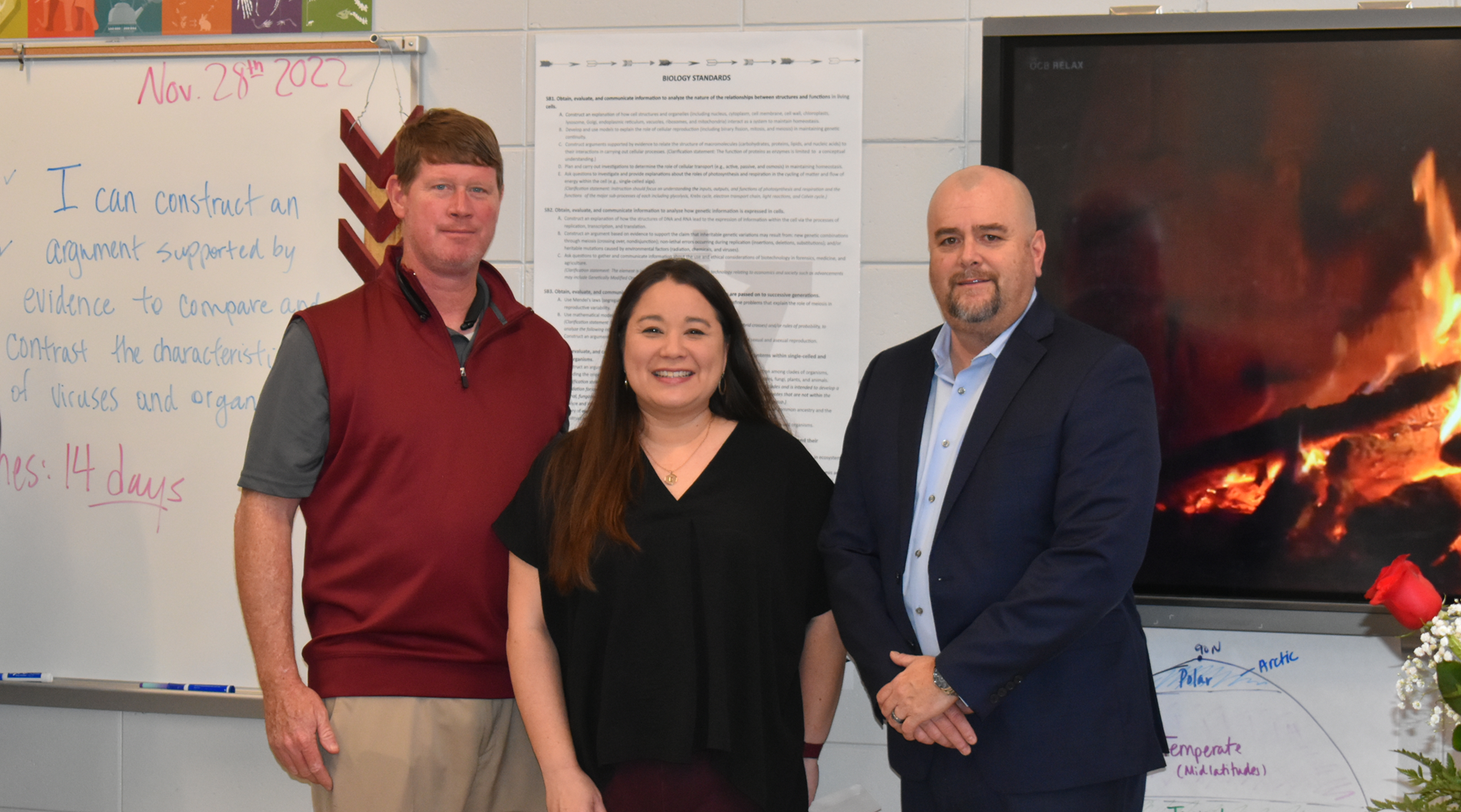 ---
The Vidalia City School System proudly announces that their Teacher of the Year is Elissa Blount. Blount, an 8-year veteran teacher, has been with the Vidalia City School System for 5 years and is currently a Biology and Environmental Science teacher at Vidalia High School.
Blount was selected from a group of four finalists who represented each of Vidalia's schools and said, "this is a huge honor for me, to represent the schools. I love teaching. It's one of my passions. And, you know, to be able to be recognized by my peers and also by the school system, it's a complete honor."
The other finalists who represented Vidalia's three other schools are J.R. Trippe – Stephanie Wardlaw, SDM – Janna Palmer, & JDD – Heather Stanley.
Blount said that she fell in love with teaching and knew that was what she wanted to do from a young age. "Even as a child, I just fell in love with school and teaching. And from there, being a Vidalia City School alum, having all the amazing teachers I had. From Ms. Jackson in Kindergarten, and on, they have really played a crucial role in and sparking that desire to become a teacher. And then from there, graduating from high school, and even in college, it was one of the passions that I had."
The mother of three (Grace, 21; Anna, 20; and Helen, 14, Blount is married to Andy Blount and said they are both bought in and love the system, "we believe in the Vidalia school system. We've had two daughters that have already graduated from the system, and our youngest is in high school now. And so, for both of us, we think that education is crucial for every student to have a quality education so they can be successful adults in our community."
Blount, who is in her fifth year at Vidalia High School, said that she wants to make sure that she "makes an impact" in teaching, "I want to make a difference in each student's life. It is more than just teaching them biology or environmental science. I want to teach them life skills. I want to teach them how to be successful. And we use biology and environmental science as the lens through which we teach these skills that they may have, how to explain things, how to construct arguments, or how to comprehend information and such. And so, I think the biggest thing is to impact students to help them become successful in future endeavors."
Vidalia Principal Bruce Mulkey said that early in his tenure at VHS, he knew Blount was a star in the system. "Before I began here, we started having conversations about who our teacher leaders in the building were, and she was one of the first names mentioned. Our staff views Elissa as an instructional leader. So, I met with her early, and had some conversations with her, and talked about how I saw things, and I found out very quickly that we saw a lot of the instructional things the same way. And what has impressed me about her is everything that I was told about her is obviously true. She's very sound and she's on the cutting edge of instructional skills. But what is most impressive are two things. One is the growth mindset that she has. She's not comfortable just being who she is and what she is doing, and the second is, she's always working to get better."
Vidalia Assistant Superintendent Ginger Morris, who presented Blount with a $1500.00 award, says, "according to the panel of outside judges, Mrs. Blount exemplified the best of the best. Her passion, enthusiasm, preparation and high level of student engagement had all the judges wishing she had taught their children."
Morris said, "For me, it is also wonderful because Mrs. Blount is a former student in the Vidalia City School System and it's always a great day when an Indian alumnus returns to continue the legacy of excellence that is Vidalia City Schools."
Blount and the other finalist will be recognized at the January Vidalia Board of Education meeting, where they will be presented with a cash award and plaque honoring their selection.
Below are the Teachers of the Year from each of the four Vidalia City School System schools.
JDD – Heather Stanley – Stanley has taught public school for 25 years, 15 in Art Education and 10 in Pre-k. She is married to Brian Stanley, and we have eight children: Breanne, 23; Roper, 23; Braiden, 21; Bryson, 18; Brantley Grace, 17; Scarlett, 16; Parker, 14; and Stone, 13.
Stanley says that she was influenced at a young age to become a teacher. "I was influenced and inspired to lead children in some capacity at an early age by two important teachers in my life, one certified and one non-certified, my amazing parents. Initially, I began teaching to fuel two passions, my love for children and my love for the arts. However, fast forward 15 years and I began teaching Pre-k out of a desire to cultivate relationships. I yearned to love, teach and influence a group from beginning to end! It has been during these 10 years that I have matured into who I am professionally. It hasn't always been easy, but education feels good and right at the moment, and I know that I am fulfilling one of God's purposes for my life!"
SDM- Jana Palmer – Palmer has been teaching for eight years at Sally D. Meadows Elementary School and is the daughter of Kendall and Jan Palmer of Vidalia.
Palmer cites "wanting to make a difference" as the reason she became a teacher, "I became a teacher to help make a difference in the lives of children. As a special education teacher, I believe that everyone deserves to have a champion and an advocate to help them pursue their educational goals and dreams. That is what I have strived to be since beginning my journey in education and it is what I will continue to strive for as I continue my educational career."
J.R. Trippe – Stephanie Wardlaw – Stephanie is a native of Fort Valley, GA, and a 1989 graduate of Peach County High School. She worked as an accountant in the manufacturing and energy industry for approximately ten years before becoming an educator. She is certified as a middle grades' Teacher in the areas of Math, ELA, and Social Studies. She is also a certified Secondary Business Education teacher for grades 6th -12th. Mrs. Wardlaw also has a Masters in Educational Leadership from Georgia College and State University.
She is married to the Rev. Dr. Carl A. Wardlaw, and they have three children, Cambria (25), Marc (21), and Carleigh (18).
Wardlaw says that "the desire to be a direct contributor to the success of the children" is why she became an educator "I became a teacher so that I could be a direct contributor to the success of the children in my community. I want them to know that they can be successful in their hometown or anywhere they decide to live. God allows me to do it all for the kids."