VHS Hosts Area Honor Bands!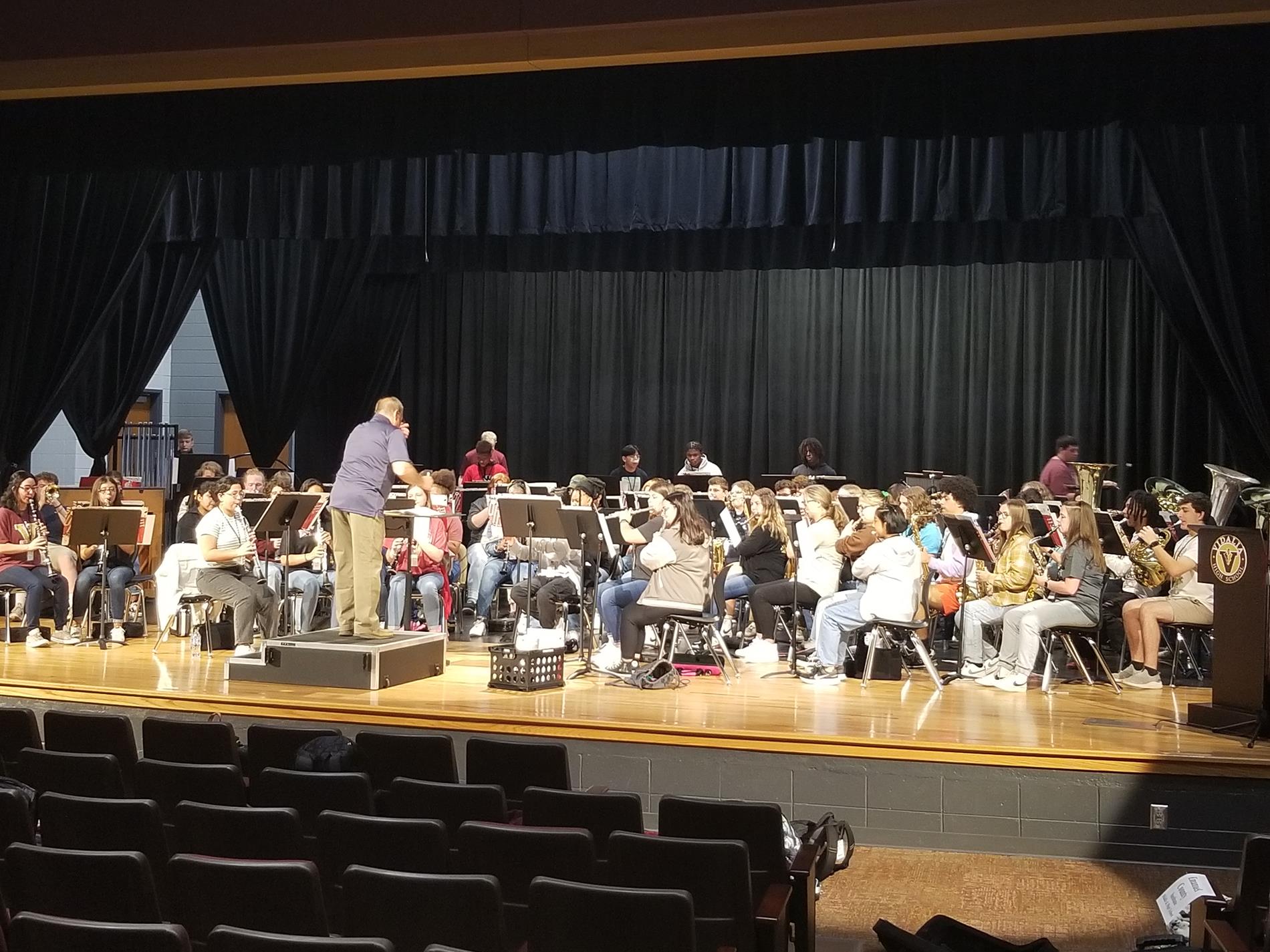 ---
Over 300 Band members from 31 schools gathered recently for two days at Vidalia High School for the "Sweet Onion Area" Honors Bands. This year's Honor Bands are the third time Dr. Beth Taylor and Mr. Stephen Arnold, Band Directors for the Vidalia City School System, have brought together bands from around the "Sweet Onion Growing Area" to participate in an Honors Band. The last Honors Band had 15 bands participating, meaning that this year's edition was double in size, which caused some creative thinking on the part of Taylor and her fellow Directors.
"It's crazy. It's weeks, even months, of planning," said Taylor. We have had a lot of help from our band parents and our own VHS Sound Tribe members. We did so much behind-the-scenes work, a lot of moving equipment. We also had to borrow some equipment from Brewton Parker College because we added a third ensemble this year." Taylor added.
With three bands, 11th & 12th, 9th & 10th, and the 7th & 8th grades, Taylor and company had to have one of everything, including the percussion world. "You had to find a third set of every Percussion instrument we had in the two bands before," Taylor said. And so Brewton Parker College graciously allowed us to use their equipment. Also, the band directors of the Sweet Onion growing area have just been so good to send in the nominations and arrange bus transportation, and it's been a great event!' Taylor commented.
The bands rehearse for over 12 hours the two days, which cumulated with a concert on Saturday at the VHS Auditorium. You need three different directors with three different bands; this year, they came from all over the Southeast. The 7th & 8th-grade band was conducted by Ms. Sonya Williams from Kingsland, Georgia, a retired band director who taught for 30-plus years. The 9th & 10th-grade director was Mr. Brent Harris from Graham High School in Huntsville, Alabama. And the 11th & 12th-grade director was Mr. Robin Christian, from Ringgold, Georgia, who taught for 30-plus years at Ringgold High School, and now works for Gadsden Music Company.
Taylor was quick to point out that the event also would not be possible without the parents and boosters, "the band boosters headed up Ms. Brenda Hadden a great team of officers have worked diligently to get corporate sponsorships to help off offset the cost," Taylor said. "Putting this on is just an incredibly enormous amount, and if we didn't have the sponsorships, we couldn't do it." Commented Taylor.
Taylor said she was impressed with how everything came together, saying, "it's just incredible to see 31 different schools in a few short hours put on a concert that they usually take weeks to prepare for at their own school." Taylor added, "for many of them, they're playing music with the best of the best, so they're able to play music beyond what they do on a daily basis. So that really makes my heart full with the students."