VHS Takes 10th Straight Region Literary Title!!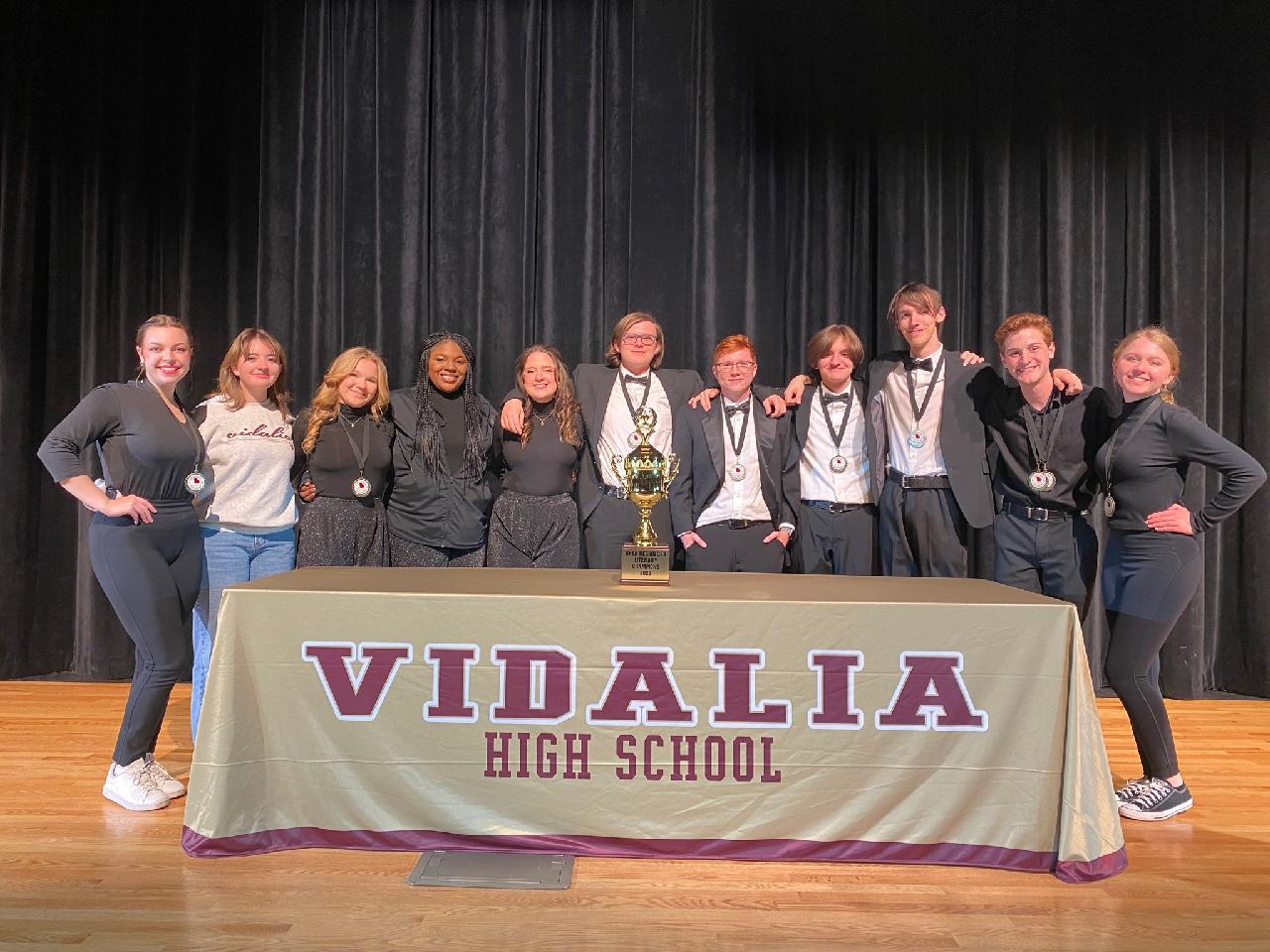 ---
For the 10th straight year, the Vidalia High School Literary Team has won a Region Title. After finishing 4th in the State, last year, the VHS Students took home first or 2nd place in 11 of the 12 events held Wednesday (38) at Vidalia High School. Vidalia scored 67 points, easily outdistancing their nearest competition Pierce County by 23 points (44 pts).
Region 3AA Literary Coordinator and Sally D. Meadows Media Specialist Carrie Beth Davis said, "The legacy that Vidalia High School is creating for itself within the Literary world is one we should all be proud of. These students and their coaches put in countless hours of practice and preparation to compete at this level. I've been a Literary coach and competition host for most of my career, and this team is the very definition of elite."
Vidalia is competing in a new region this year (3AA), with the likes of Pierce County and Appling County, who have traditionally been strong despite competing in AAA. And Vidalia Literary Coach Margaret Pournelle says that the team met the challenge head-on and rose to the occasion, "VHS faced a challenge, being in a new region this year, but our kids have risen to the occasion and proven themselves against very tough competition through their hard work and dedication. I am so proud of them and look forward to continuing to state competition on March 25th. We also would like to thank Ms. Carrie Beth Davis for coordinating our region competition."
All first-place winners of Wednesday's event will advance to the State Competition, which will take place on Saturday, March 25th, at GMC in Milledgeville. Jayla Phillips, who captured 2nd place in the Literary Analysis division, will also make the trip to State as the 1st place finisher will not be able to participate.
3AA Region Literary Results for Vidalia
Humorous Interpretation - Alan Johnson -1st place
Dramatic Interpretation - Sage Powell - 1st place
Duo Interpretation - Dottie McDaniel and Alan Johnson - 1st place
Girl's Solo - Shannon Collins - 1st place
Boys' Quartet - Micah Davis Brown, Landry Wheeler, Andrew Davis, and Cole Dean - 1st place
Domestic Extemporaneous Speaking - Hudson Sumner - 1st place
International Extemporaneous Speaking - Dottie McDaniel - 2nd place
Girls' Trio - Shannon Collins, Jada Clements, and Autumn Harris - 2nd place
Literary Analysis Essay - Jayla Phillips - 2nd place
Personal Essay - Paradyse Jacobs - 2nd place
Argumentative Essay - Bralie Carey - 2nd place