First Ever Sweet Onion Honor Band Festival Takes Place at VHS!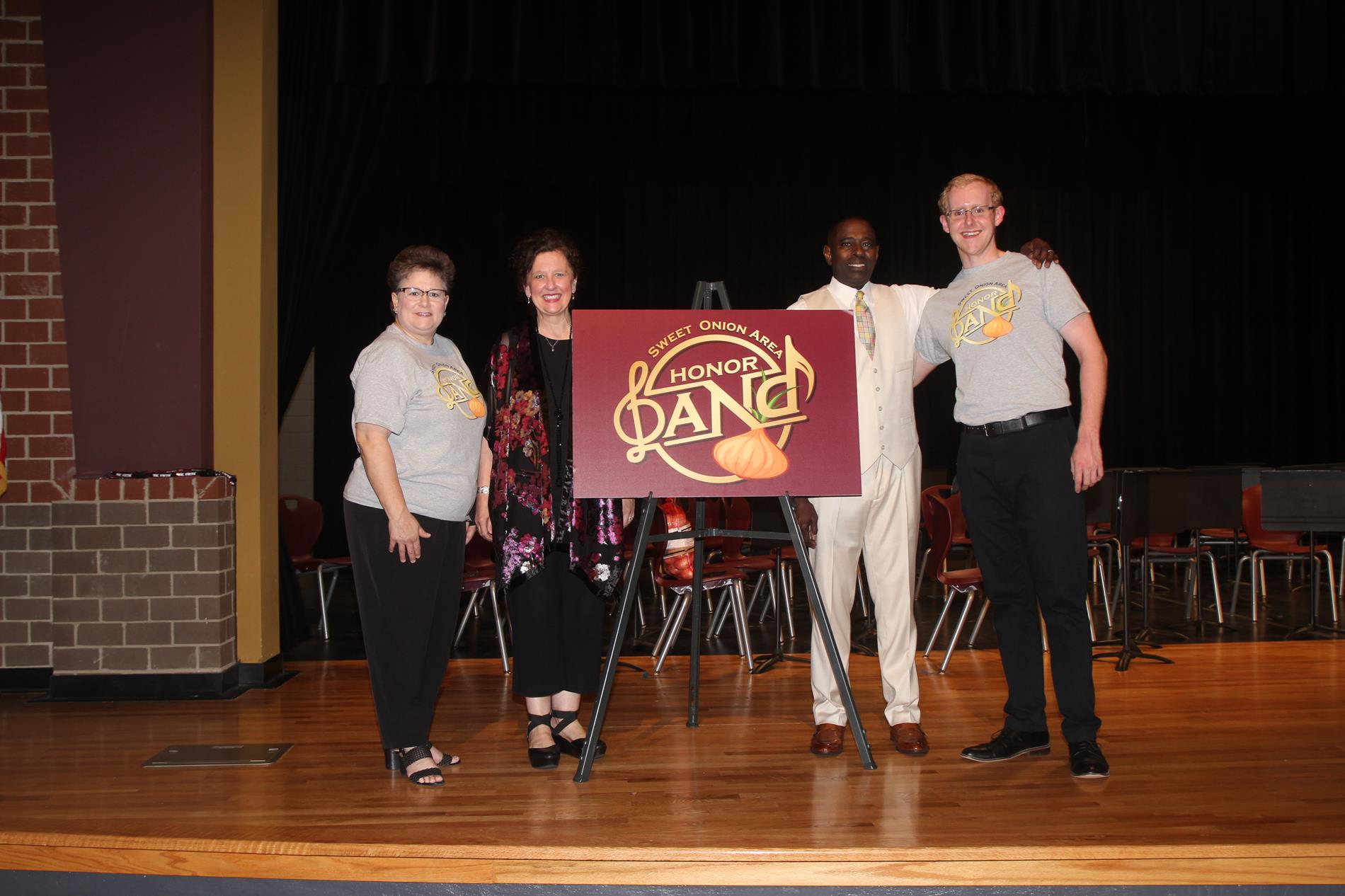 ---
Everyone knows of the effects of the COVID-19 Pandemic on High School and Middle School Athletics. Games and even seasons canceled or postponed. You also know that many schools, including Vidalia High School, either delayed or canceled in person Graduations in 2020. But, there may be a group of students who work very hard in their class and at their extracurricular activities that you may not have heard about. And those are the students who participate in the Fine Arts, including the Middle School and High School Band Programs.
Neither was able to perform in concert or competition over the past year. So, Vidalia High School Band Director Dr. Beth Taylor decided a few months back that she wanted herself and her assistant and J.R. Trippe Band Director Stephen Arnold to do something about it. So, with the help "of a few close friends," Taylor and Arnold set off on a journey that cumulated Friday and Saturday at Vidalia High School with the first-ever "Sweet Onion Area Honor Band."
Through their efforts, Taylor, Arnold, and friends were able to bring together eight Middle School and seven High School bands, as one at Vidalia High School to showcase the best talent in the area.
"Because of the Pandemic, none of these students have been able to participate in anything that resembles normalcy," said Taylor. "And a lot of these students that have smaller bands don't have full instrumentation, and so they never hear what a real symphonic band sounds like. A lot of the students including ours here at Vidalia have never participated in an Honors Band Clinic, so I wanted to give them the opportunity. So I told Mr Arnold that we were going to do this and here we are," Taylor added.
Obviously, an undertaking of this magnitude takes a lot of effort and people who are willing to help, and Taylor said that she was blown away by those who helped make it happen. "Although this has been difficult, I have been able to call in a couple of favors from some of my former students who are now band directors, to come in and help out. Some have been here during the week and some will be here all weekend, and have worked tirelessly, and Mr Arnold and myself have put in a lot of extra hours trying to get the instruments ready, making a lot of call and sending a lot of emails, but it has been worth it for the students!"
Of course, no great band can perform to its potential without a great conductor, and according to Taylor, she had two of the best! "I've known Valarie Morgan and Vince Rosse for over twenty years and I knew that if we were going to do this right, we needed the best and Valarie and Vince are just that and I am thrilled beyond words that they are here sharing their talents with us!"
Rosse, a Band Director in Dekalb County and one of the most sought-after adjudicators for Band Competitions in the state, said that he is honored to help "put something together of this magnitude where we bring all of these students together to make something magical."
Rosse didn't mince words when asked how difficult of a task it was to bring all the different participants together and get them ready for a major concert in less than two days. "Very difficult! The hours that go on behind the scenes the days before we get her is unbelievable. The directors, the music companies, the music store reps, the purchase of equipment, chairs, making copies, it's a huge undertaking and Dr. Taylor and her staff have done a marvelous job." Rosse concluded by saying," this is my 34th year of being a band director and I feel that I am just four years old, because I am so excited to see what is going to happen here."
Morgan, who teaches at Woodward Academy in Atlanta, is also in her 34th year of teaching and says that Taylor putting this together is "nothing short of amazing! She is a rock star and to do it during a pandemic, makes it even more impressive."
Morgan, who has worked closely on other projects with Taylor, reminds everyone that there have been no honor bands this year, no all-state bands this year; she says, "my own children did not get to go to All-State, because they didn't have it and Beth organized this. Remember, this is for the kids, so when she asked, I was all in!"
Morgan also emphasized the difficulty of bringing so many different students together to blend into one. Still, in the end, she says, "it's an honor, and it's exciting to know that you can maybe make a positive impact in their lives, and who knows, perhaps they can take some of this positive energy back to their schools and hopefully watch it spread.
Here is a list of schools participating and their directors and special guests who helped make this year's event a success. (Photo's courtesy of Rebekah Arnold)
Sweet Onion Area Honor Band
Participating Schools and Directors / Guest
North Tattnall Middle School - Samantha Smith
Wheeler County Middle School - Tim Quigley
Home School Association - Dr. Matthew Haley
Metter Middle School - Toney Golden
J.R. Trippe Middle School - Steven Arnold
Toombs County Middle School - Micah Caldwell
South Tattnall Middle School - Amelia Parker
Langston Chappell Middle - Samantha Cook
-------------------------------------------
Robert Toombs Christian Academy - Chester Proctor
Dublin High School - Marcus Rayner
Metter High School - Toney Golden
Tattnall County High School - Zach Towery
Toombs County High School - Noah Bullard
Vidalia High School - Elizabeth E. Taylor
Wheeler County High School - Tim Quigley
John Morgan - Michael Dukes - Megan O'Bara