VHS Students Shine in GPB Film Challenge!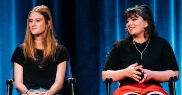 ---
The Hope Film Challenge awards were recently held at GPB's Studio A in Atlanta. Five VHS students from Mr. Jackson Sharpe's Audio Video class, including Natalie Rau, Jayla Phillips, Dottie McDaniel, Katie Zabski, and Isaiha Rodriguez, were able to attend the awards ceremony.
In April of 2022, many of Vidalia High School's Audio Video students entered the Hope Giver's "2022 Hope Film Challenge," a nationwide student film contest sponsored by Georgia Public Broadcasting (GPB) and the Georgia Department of Education. Students directed, filmed, and edited their own stories of hope to inspire youth across America and promote Humanity, Opportunity, Prevention, and Equity (HOPE).
Seven students from Sharpe's class received recognition, with Jayla Phillips & Natalie Rau receiving honorable mentions in the top 10 national finalists. Dottie McDaniel, Mikkelle Peters & Isaiha Rodriguez made the Semifinals, with Karma Butry & Tanner Harris reaching the Quarterfinals. The finalists' films were judged by film industry producers, showrunners, screenwriters, and directors such as Justin Hillian (Showtime), Marion Dayre (Marvel Studios), and Christopher Escobar (Executive Director, Atlanta Film Festival).
Hope Givers is a GPB youth mental wellness series highlighting hope and resilience across America.

VHS Honorable Mention students Jayla Phillips and Natalie Rau joined Tamlin Hall, Hope Giver's Founder and Executive Producer, on stage to discuss their films, mental health, and future goals. Both students showed grace and composure talking about these topics with a live audience. Jayla's film focused on her experience living with depression in a small, rural community, while Natalie's film focused on her experience with a family member's addiction.

When asked about the experience, Junior Jayla Phillips said, "I really enjoyed the entire experience, but especially being around other creative individuals who have an interest in film like I do. It was so special to see others be up front about struggles they have gone through and are going through. Though it was intimidating screening my film and being interviewed in front of others on stage, it was a wonderful, unforgettable opportunity. I can't wait to try again next year!"

Junior Natalie Rau said, "It was an amazing experience to meet new people and share my story. Telling people what I've been through really lets others know that it's okay to have gone through trauma, and you're not alone. I will keep sharing my story so everyone knows that there is a happy ending for families who struggle with addiction; there is strength."

Sharpe commented, "I'm incredibly proud of the bravery it took for these students to share their story of hope. Our Audio Video students are powerful storytellers and talented film-makers as well. It was surreal to see their work praised and recognized at Georgia Public Broadcasting studios in front of film industry professionals and Maya Enista Smith, Executive Director of Born This Way Foundation."

Congratulations to all VHS students who entered the Hope Film Challenge and those who reached the quarterfinals and beyond. We are incredibly proud to have such innovative and brave young storytellers and filmmakers in our school system.(Content & Photos Courtesy of Jackson Sharpe & Carrie Beth Davis)