VHS-FCCLA Hosts 1st Annual Junior vs. Senior Powder Puff Game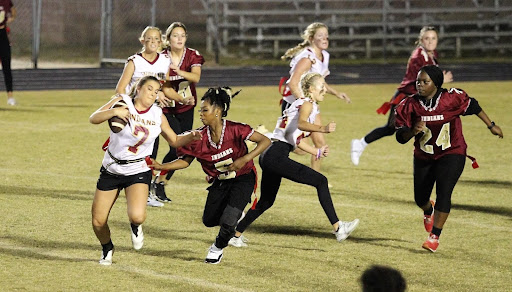 ---
Vidalia High School's FCCLA (Family, Career, and Community Leaders of America) hosted the 1st Annual Junior vs. Senior Powder Puff Game on Thursday, November 18, 2021. The junior and senior girls stormed the field to get their chance to play football under the lights at Buck Cravey Field.
With the sound of the VHS Drumline playing in the stands and SkillsUSA providing snacks and hot chocolate for the spectators, the game provided loads of entertainment for all in attendance. The game portrayed the heart and determination of the players and coaches.
Both sides had a competitive edge, with both teams fighting to leave it all on the field to secure a win. Although the juniors tasted defeat, they have high hopes for their senior year.
The halftime show led by Bobby George was the absolute highlight of the night! The junior and senior boys provided routines that will be remembered for years to come; however, the crowd unanimously chose the senior boys as the winner! FCCLA looks forward to establishing this event as a longstanding yearly tradition for all to enjoy.